Sawgrass Home Solutions is certified by two nationally recognized building performance organizations, the Building Performance Institute and the Residential Energy Services Network, to conduct professional home performance assessments. Our assessment procedures are structured to comply with each of the organization's stringent standards which have been compiled by some of the country's top building science professionals.
Twenty-five years of residential renovation experience compliment Sawgrass Home Solutions' performance assessments. Time spent in the field providing carpentry and building contracting services has instilled knowledge of how homes are constructed and where building weak points tend to occur. We regard our hands-on building experience as a valued resource that provides us with the necessary foundation for effectively diagnosing the sources that are inhibiting your home's efficient performance and the comfort provisions that you desire.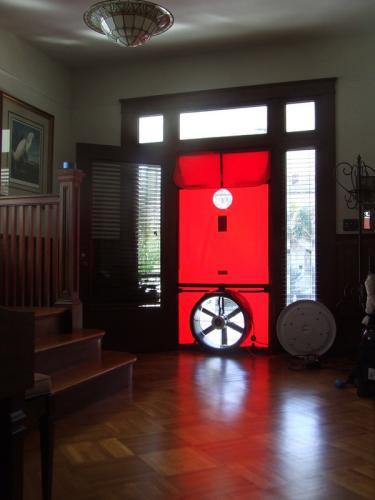 Sawgrass Home Solutions can conduct your home performance field assessment in three to four hours with little, if any, inconvenience to home occupants. The procedure does not require any physical alteration or disturbance of the home. The objective of our home performance assessment is to provide you with a cost-effective scope of improvements that will increase your home's energy efficiency and durability while providing increased comfort and a healthier indoor living environment.
Our Comprehensive Home Performance Assessment is structured and conducted as follows:
Client Interview


A brief interview is conducted with home occupants to gather their input regarding awareness of specific areas within the home that are drafty, uncomfortable, or that are displaying signs that may warrant concern. Inquiries regarding home usage patterns, such as the amount of time family members spend at home and typical thermostat settings are common to the interview. A consecutive twelve month utility consumption history is typically requested. The consumption history is required for entry into the computer software for analysis and can usually be easily obtained from your utility provider.

Exterior Visual Inspection
The exterior of your home and its surroundings are visually assessed in order to determine if conditions exist that would potentially be contributing to increased utility expenses, home occupant discomfort, or durability issues.  The exterior cladding and roof covering are surveyed for damage and penetrations. Crawl spaces are observed to determine if air and moisture infiltration issues are present as well as to confirm that adequate insulation has been provided. The home's exterior building components, orientation, and the surrounding property's grading are visually assessed to determine if provisions have been made to deter weather induced issues. The outside of the home, its windows, and exterior door openings are accurately measured and evaluated. 
Interior Visual Inspection
A walk-thru of your home's interior conditioned space allows for the wall, floor, and ceiling components to be observed as well as the appliances, utilities, and electrical fixtures. Wall and attic insulation are inspected for adequate insulation R-value provisions. Efficient operation of appliances and mechanical components are confirmed. If combustion appliances are present within the home, they are tested to insure that carbon monoxide issues do not exist as a result of the incomplete combustion of their fuel sources.
Home Diagnostic Testing
Home diagnostic testing equipment is utilized to aid in providing Sawgrass Home Solutions with an understanding of how and why your home is performing as it is.

A Blower Door test is conducted in order to indicate how much air leakage is being permitted to occur through the walls, floors, and ceilings of the home. The blower door test results are used to determine if air infiltration is impacting the home's efficient performance as well as to determine if sufficient fresh air exchange is being permitted for ventilation purposes.

A Duct Blaster test is performed on each of the home's HVAC distribution systems. The test provides an indication as to whether or not the duct systems have been effectively sealed. Inadequately sealed duct systems permit expensive conditioned air to escape through connections, joints, and seams and also provide a pathway of opportunity for dust particulates and other pollutants to enter your home.

Combustion safety testing is performed on appliances and mechanical components that depend on combustion fuel sources, such as natural gas and propane. The testing is conducted to insure home occupant safety as well as for efficiency determination purposes.

Comprehensive Home Energy Assessment Report
Sawgrass Home Solutions will use the information collected during your home's field assessment to prepare for you a Comprehensive Home Energy Assessment Report. The report will provide you with information detailing where building deficiencies exist, how you can improve upon them, and the resulting annual savings that you will be provided with if action is taken.  

The data that we have collected will be entered into computer software that has been specifically designed to analyze home energy consumption. The software will create a model of your home in its current condition and identify the energy demanded by its present sources. Based on that information Sawgrass Home Solutions, LLC will develop a prioritized list of improvement recommendations for you. The home will be modeled as if it had the recommended improvements performed in order to display the energy and financial savings that will result if the recommended improvement measures are performed. Recommended repairs and improvements that will optimize energy efficiency, durability, and occupant health and safety will be provided in order of health and safety priority and greatest potential for energy savings.

Test-Out Procedure
If recommended improvement measures are performed, Sawgrass Home Solutions will conduct a Test-Out procedure at job completion for quality assurance purposes. The Test-Out procedure will include the performance of applicable diagnostic testing to confirm that the proposed improvement goals have been achieved. The Test-Out diagnostic procedures will also confirm that health and safety issues related to ventilation and the operation of combustion appliances have not been created.