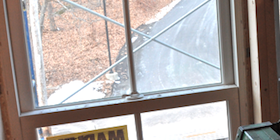 It speaks to the marketing savvy of window manufacturers and installers that, when faced with drafty rooms or high energy bills, most homeowners typically think that the best solution would be new replacement windows. While energy efficient replacement windows will likely lead to improved comfort and lower utility bills, the truth is that there are many far more cost effective solutions to improve your home's comfort and energy efficiency.
Windows are expensive.
Whatever tax breaks or special deals may be going on in your area, the fact remains that replacing your windows is a labor-intensive, high-material-cost job that will likely set you back in the tens of thousands. If you're to invest in one of the varieties of very energy efficient windows on the market, the price will be even higher. Even if you were to reap significant energy savings from your new windows, the payback period from an energy standpoint will be several years at the earliest.
Windows typically aren't responsible for much heat loss.
Due to a phenomenon called the Stack Effect, whereby cold air enters the home through holes in the basement or crawlspace and rises as it heats up, through the living space and into the attic, the majority of the heat loss in your home typically takes place through holes in the basement and the attic. While leaky windows are certainly responsible for some heat loss, and some drafts, focusing on the more significant leaks in the attic and basement is a far more cost-effective way to reduce your energy bills and improve your home's comfort.
Air sealing and insulation are less expensive, more effective solutions.
Focusing on these big air leaks in the basement and attic is typically far less expensive than replacing all of your home's windows. Consider hiring a qualified home energy auditor to determine where the most significant air leakage is taking place, or hiring a full service Home Performance contractor to use energy auditing diagnostic tools like blower door testing and infrared imaging to pinpoint the air leaks and seal them up in one fell swoop.
Once your home's air leakage is reduced, consider beefing up your home's building envelope with increased insulation. Products like spray foam and blown-in cellulose insulation are typically better at stopping air movement than traditional fiberglass batts, so consider these options when hiring an insulation contractor to increase the R-value of your attic and walls.
For more information about how to save energy and improve your home's comfort cost effectively, feel free to contact us directly. We'd be happy to help with any questions you may have.